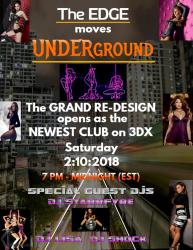 The club you have loved for the past year has been RE-DESIGNED!
The EDGE now moves into a Club known now as
The UNDERground.
The GRAND OPENING will be
SATURDAY - February 10, 2018
from 7 PM to Midnight EST
The room's host, Downriverden, welcomes three guest DJs
for your deepest possible pleasure that evening.
DJ StarrFyre, DJ Lisa, DJ Shock
will help your bodies to quake and your asses to shake ALL NIGHT LONG.
The pleasures of the night await you in 3DX's newest Club!