❀❀ Our one year anniversary - Dame Teana & Doll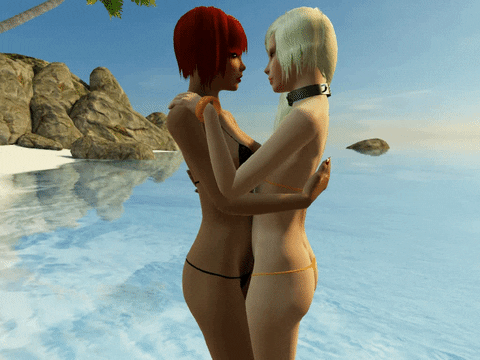 It all started with this...maybe the worst introductory message ever from me...

"Sorry for the pm. Just wanted to say I love your profile pic. Cute feet, yours really?
I know I'm weird just like feet and wanted to congrats lol"
And it continued with this...a so short answer to a girl I already liked after her short message...
"Thank you my dear. I am sincerely flattered and delighted that you like my feet. I don' t think you're weird and I thank you for your compliment.
...a few days later a very shy and nervous me met Teana in sin club...I somehow managed a bit of rambling chatter and luckily didn't completely blow it at that first meeting...

...and so...a week or two after that...when my nerves had steadied (a little) I finally begged Her to accept me as Hers ...promising to be Her most devoted...loyal and loving girl for as long She'd want me. Amazingly She accepted and I've been the luckiest girl in the world to have been Hers and only Hers ever since. It was all very...very new to me at the time...but was something that I have now come to accept is in my nature. All I can say is that my Maitresse Teana has been everything to me since that day...guiding...supporting...and loving me every step of the way. I could never have hoped for a more perfect Mistress.
Doll has been from the beginning One of the kindest and most genuine person I ever known. I loved her right from the start and I didn't hesitate to take her as mine. I never regretted that and today I'm so proud and I love so much my precious flower. So devoted, loyal, loving...she deserves the ebst I can give to her, and even more.
So...we decided we'd like to mark the occasion with this thread to celebrate, not just ours, but all lasting relationships in 3dx...and also to say we'll be hosting a little informal open house on Sunday, July 19. We'd truly love to see anyone that's known us over the time we've been in 3dx...or indeed anyone who wants to just celebrate a little romance, so please pop in, say hello to Dame Teana and Her girl...and maybe tell your significant other how much they mean to you while love infuses the air hmm?

We'd both also love it if everyone/anyone wanted to use this thread to celebrate their own relationships in the game. It's not easy to make anything last here so lets celebrate those that have made it work and your love for each other.
Please join us in celebrating what has been a beautiful...amazing year together and our hope of many more to come.

With all my love...trust...loyalty and devotion...to my Maitresse...Dame Teana. Always. The last year with you has been one of the best years in my life...its flown by so fast and yet seems as if I've been at your side forever.

My so perfect and delicate flower...My dear Doll, so precious to me. That year spent with you was so short. I wish for us so many more years like that one.
...and my love always to all of you out there in 3dx - Doll
...I add my voice to that of Doll to greet you all - Teana
Teana
❀ Doll ❀