Took me long time to get so far with the room to be able to show it to Public,
worked on it from August till now with several breaks along, But NOW its finally READY so:
I'm Proud to be able to open my New Club "Watergate" on 8th of December.
You all are invited to Party with us and celebrate the Opening.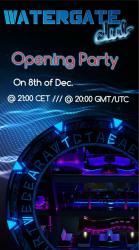 Room will be open lil before 21h - 9:00 PM CET // 20h - 8:00PM GMT/UTC
(Hopefully the Glowing Graphics Bug have been solved till then)
Music will be provided by:
- Oneiros: Tech House ~ 21:00 CET
- MissyB: Melodic House & Techno ~ 23:00 CET
-
Hope to see you all there, that long have fun & Njoy your time!
PS: Small sneak peek of the location can be found here:
http://3dxforum.com/index.php?/topic/5927-share-your-world-editor-creations/page-32#entry314772