Welcome to the witches world, a world dominated by witches, and lead by Witch Eléonore !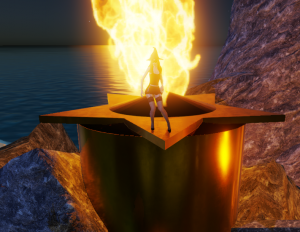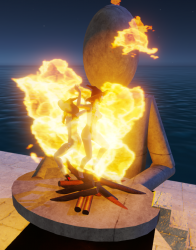 It's a world half Roleplay / half Catch and fuck.
Description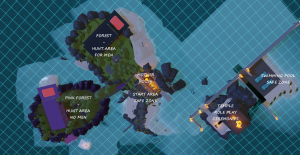 The world is composed by the mother room,the place where you begin, a place where you can relax, meet people, listen music and dance.
On the left, you have the forest, with the house... It's a dangerous place, be carrefull, there is strange people in the house, sometimes they assault you !!! (catch&fuck, hug to catch).
Now you also have a pink forest, where only women (and futa) can go. Here it's a place where witches hunt lost women. Men who enter this place are burning and they die.
Witches hunt to satisfy they huge sexual appetite. They often put a mask or got a witch hat !
On the right, you have the burning crosses, and over the sea, the temple where witches make ceremonies. Witches are imune to fire, they had a pact with the devil ! To be sure that a woman is a witch, you just have to try to burn her. If she burns, it's not a witch, else she is.
In ceremonies, some witches are punished and have to enter the temple where strange creatures waiting for them. Novice witches have to enter the temple too, to learn some things about witch magic... The temple is a dangerous place for everybody from everybody (catch&fuck, hug to catch).
The swimming pool behind the temple is a calm place, to rest, talk, and flirt. You can also go on the top of the temple to have a great view and have a good time.

Remember, hunters only hunt in the wood, the house and in the temple.
Catch & fuck
Catch and fuck doesn't mean no roleplay, on the contrary ! It's really better to start roleplaying with the person you try to catch, before hunting her.
Remember, that some people doesn't know the rules, and doesn't want to fuck you even if you catch them.
Stay cool, it's just a game !
Hunters, do not stay at the entrees of hunting zones ! Just play, run, talk with others, take your role !
Victims, use roleplay to try to escape, to spice up the game. If you think hunter that catch you doesn't make enough exertion, escape him ! Remember the only rule is to have fun.
(True gamers deactivate names displayed aboves characters ^^ !)
Ceremonies
Here you can see witches ceremonies to remove demons from the male body:
Witches are sumoning an incantation to heal the possessed male: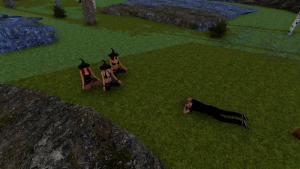 Witches are dancing to call the witches mother god to help them to fight the demon inside the male: