Masturbating in front of computer
Knowing, i'm not the only one, doing it in front of my Laptop when playing 3DXCHAT with a partner or two in this game. But i'm still curious about this.
On the web i found some arguments due to which we would get into the mood of masturbating in front of our Computers:
- A 'spontaneous' reaction due to stimulation of a chat, pictures, videos or other content delivered through the computer.
- A 'planned' Action: You knew beforehand that you would like to masturbate and looked for stimulating content.
- You get 'talked into' Action: Someone is talking you into masturbation - most likely during an interactive text, audio or videochat session.
- You are a horny slut or a (normal) boy.
- In a momentarily lapse of amnesia, you forgot there were other things you wanted to do.
- For purely scientific field research.
- You feed a webcam site and receives money for doing "masturbation shows".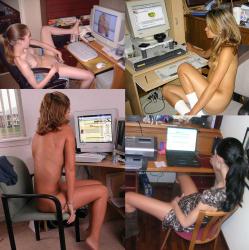 Feel free to discuss this subject without taboos. I'm looking forward to your contributions.
Of course you guys are also welcome!