www.iStripper.com

Get hot girls stripping naked on your taskbar!
iStripper is a unique technology of video incrustation to display videos of sexy girls directly on your taskbar, with no background, just as if they were living inside of your screen.
Download iStripper now for free!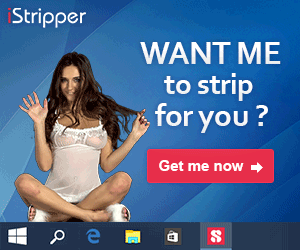 NEW USER INTERFACE

iStripper interface focuses on a Featured section where only our best rated content is highlighted for each niche (blond, brunette, big boobs etc.).

CONTENT REBRANDING

VirtuaGirl & DeskBabes content have been merged into iStripper. We shoot in 4k resolution for nearly 2 years, only our 4k shows are now presented in iStripper.

SECURED PLATFORMS

iStripper's exe is very light to download; its clean encoding makes it 100% safe for firewalls & antiviruses.

Our sites are fully secured with https connections.

Free Previews, New Price Points, User Rewards ... and more!